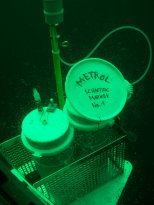 Project intro
Methane is one of the most important energy sources in the industrialized world, but is also an effective greenhouse gas when emitted into the atmosphere. Vast amounts of methane are formed in European margin sediments leading to the formation of free gas, to complex carbonate structures, and to enhanced methane emission. These processes are important for environmental quality, for offshore operations of the hydrocarbon industry, and for climate development. However, a high percentage of the entire methane flux, maybe 90%, is retained in the seafloor through anaerobic oxidation by microorganisms.



aims to explore the microbiological and geochemical controls of this methane barrier in order to quantify current methane fluxes and evaluate the effect of environmental change on sea floor methane release. The project will contribute critical data and understanding needed to predict the future impact of seafloor methane for global climate change.



has started on 1 November 2002. The total duration is 36 months.